Rebuilding Together has announced that Grip-Rite, along with CBRE, is sponsoring the reconstruction on Ms. Lipofsky's house that is currently underway.  In the last few weeks I've been stopping by almost daily to see the progress and talk to Ms. Lipofsky about her excitement for the project.  It seems like each time I am there I see more and more materials and tools that Grip-Rite has generously sent to get the project started.
The dumpster has been delivered and the disaster relief is underway.  Their first week of demo and construction was a rough one as we are now in the tail end of the rainy season in Central Florida, but that didn't stop the team from removing the siding that was installed by the original contractor.  In addition to removing the siding they also removed any decorative wood accents that were previously installed around the garage and front window as most of them were rotting.
They day after the contractor took down the siding I was excited to stop by and see that the house-wrap had been put up and they were already preparing for the new siding installation. They aren't letting a little bad weather slow them down from returning Ms. Lipofsky's dream of home ownership back to her.  This is one hard working team that has so generously welcomed me to document the progress in photographs.
The construction team that is working on the project now has been doing a wonderful job with sharing their progress with Ms. Lipofsky and always looks forward to showing off anything new they have accomplished since her previous visits.  There was a break in the rain during their first week of work that allowed them to get the siding installed and now all they have left is a few finishing touches on the edges of it.  Those guys sure are doing a great job staying on track despite the rain, heat and humidity involved with a traditional summer in Orlando.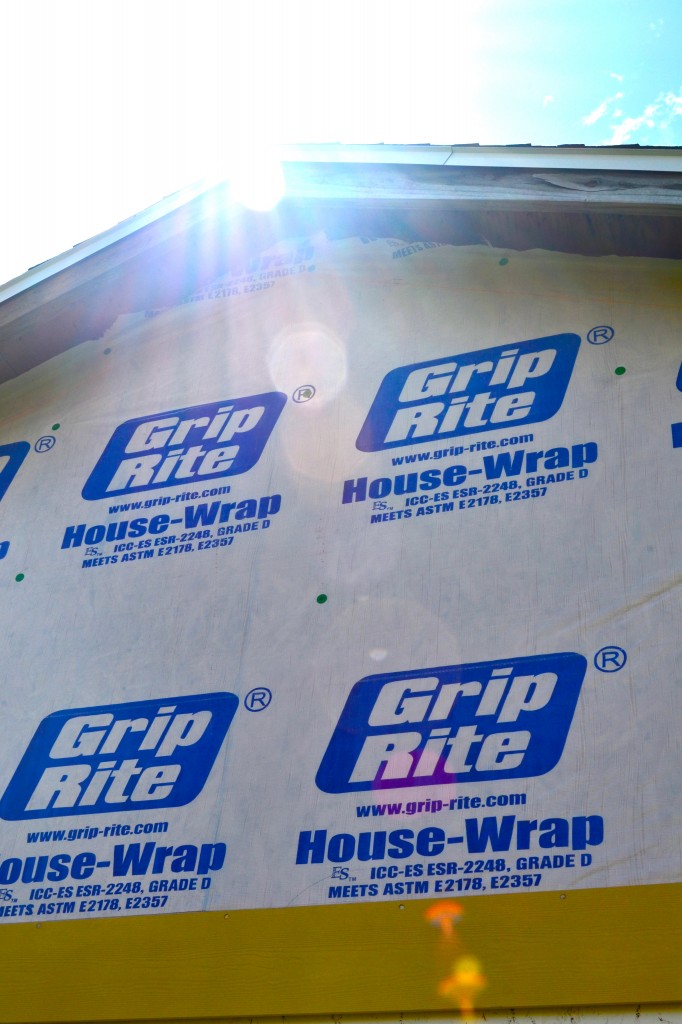 New siding installation.
You can even see on the front of the house where they painted a few of the color choices that Ms. Lipofsky is considering for the exterior of her home.  She's narrowed down her choices, but you'll have to wait to see the final product to know which one she picked.  All I'll say is that she's very happy with her choice.
When I stopped by last Tuesday, Ms. Lipofsky told me she felt like she was still in shock.  You can see in her eyes that she just can't believe that she's finally getting the assistance that she needs.  She let me know that the team has been making all the right choices and she just adores seeing everything come together.  Flooring arrived at the end of the first week and the team was excited to get it installed so Ms. Lipofsky could start to see pieces of the interior coming to life.
I'm looking forward to returning this week and seeing what came to life over the weekend.  In an effort to ensure that the work is done this month for Ms. Lipofsky, the contractor worked this past weekend so it will be ready for her to return home on time.  Check back on Wednesday to see the photos of the flooring once it was installed and any new developments that have occurred!