I've come to learn in the last few weeks what the true joys of homeownership are like. It's full of rainbows, butterflies and burnt out thermostats. Ah, the fun side of owning your first home. We've been blessed with semi good weather here in the Central Florida area and that has helped us get through the last several weeks while we attempt to figure out what to do to solve our thermostat dilemma. Until it is replaced we're kicking it old school and just opening/closing windows to regulate the temperature. The good news is we're probably forcing ourselves to save some money on our good ol' electrical bill. The bad news is I've already had one incident that included mopping the tile in the kitchen because I didn't realize the rain was come down at an angle and soaking our floor.
Several years ago I read an amazing multiple page review about the Nest thermostat and it was so impactful that I've been keeping it in mind ever since. If you haven't had an opportunity to check out this nifty little sucker then now's your chance. It is a little space age looking and smart enough that it might frighten some people away from it, alas I am not one of those people. The day that we discovered the cause of our air conditioning problems was the day that I jumped on my opportunity to make all my thermostat hopes and dreams come true. Of course, I couldn't help but take advantage of the opportunity to use my Ebates of the account in the process of this purchase. Hey, a little money back never hurt anyone! (Check out the link on the right of the page if you're interested in getting some money back for your Internet purchases.)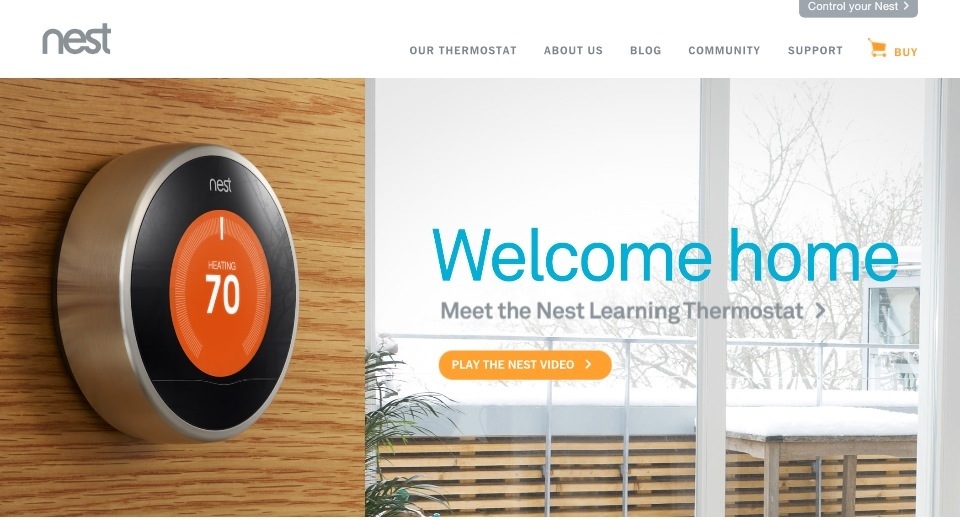 As fast as I could, I fired up a Google search on my cell phone and started trying to find out who locally sells the Nest. A few clicks later, through Ebates of course, I had purchased the Nest online with in-store pickup so that we could install it that evening after we got off of work. I felt like a mastermind homeowner. We had a problem, found out the cause, knew of a solution right away and had acquired the piece to complete the repair in the same day. My lovely fiancé rushed to the store to pick it up on his way home from work and within a few hours we were ready to fix our first big household problem. Little did I know that my thermostat dreams were about to be crushed by our stupid air conditioning wiring.
Before I even cracked the wrapper on the Nest I decided that I should just double check that it would be compatible with our air conditioning unit as the sticker on the package indicated there was a 5% chance it might not. Knowing it would be easier to return the package if we hadn't opening it, I used the web address on the package to check for compatibility. Within minutes I was speaking to a real person from Nest, they were looking at a photo of our wires that I emailed in, and learned that I'm in the 5% that isn't compatible. Apparently we have a proprietary set up and at this point it isn't compatible with their thermostat, or any others as we have come to find.
I couldn't be more crushed! It only added salt to the wound that the Nest representatives I spoke to were so nice to go above and beyond in helping me. I waited maybe one minute at most to be connected to a real person when I called, they patiently walked me through every scenario possible to make sure I was definitely not compatible before they broke the news, and the fact that I was able to email them photos of what I was looking at made the situation that much more awesome. The bottom line is that my thermostat hopes and dreams might be crushed, but that doesn't mean that you can't be the owner of one of these extraordinary pieces of ingenuity. If you're thinking of replacing your thermostat any time soon, I highly recommend you exploring the idea of purchasing the Nest as I believe it will surpass all of your temperature related needs.